Here at Armagh Observatory & Planetarium, we are passionate about science education for all and we want you to have the magic of the planetarium dome wherever you are.
We cater for schools, summer schools, festivals, and more, and have travelled to many locations across the island of Ireland. Session times can be tailored to your specifications with content for a wide range of ages; we are experienced in delivering an out-of-this-world outreach experience for anyone.
OUR PORTABLE DOME
Our most popular outreach activity is the portable planetarium dome with which we can deliver shows: either a live interactive tour of the night sky and the planets, or a full-dome astronomy-themed video – or even a mixture of the two. Each dome session usually last around 30 minutes, but can be extended to 60 minutes.
The portable planetarium dome has a diameter of 25 feet (7.6 metres) and height of 13ft (4.0 m), so an ideal location for it is a large quiet interior area such as a gym or an assembly hall, with 25ft x 25ft (7.6m x 7.6m) of floor space available and a ceiling at least 13ft (4.0 m) in height – and a power socket nearby. The dome can fit up to 30 people at once.
We can adjust our program depending on the audience size, but we generally offer a half-day visit (e.g., 09:00-12:00) or a full-day visit (e.g., 09:00-16:00). We can discuss the exact format and pricing with you depending on your needs.
OTHER SCIENCE OFFERINGS
We can offer interactive science/space-related talks and activities to complement the dome shows. The pricing here is more variable: if the activities have be scheduled in parallel with the dome shows, for instance, then we need to recruit another member of our staff.
They may include a rocket-making workshop, a workshop about the nature of light including an infrared camera, a talk about space rocks (featuring real meteorite samples), and more. You can choose which activities you would like to see with our outreach visit, as well as how interactive they are. We can also offer the interactive talks and activities on their own. Please contact us to discuss these options.
In addition to the above, we also offer standalone science talks on a topic of your choosing. For example, a presentation about comets has been a favourite, but we can also accompany you on an observing night and discuss what to see in the night sky, or how best to use your telescopes.
Pricing
Portable Dome (Education Visit):
Half-Day: £450
Full-Day: £600
Portable Dome (Corporate Visit):
Half-Day: £450
Full-Day: £800
Science Talks with an Education Team Member:
≤ 20 People: £200
Each additional person: £10
Interactive Science Talks with an Education Team Member:
≤ 20 People £240
Each additional person: £12
Travel costs may be incurred for long distances.
We can tailor our visit to your needs. Please contact us (form below) to discuss what your outreach experience could look like.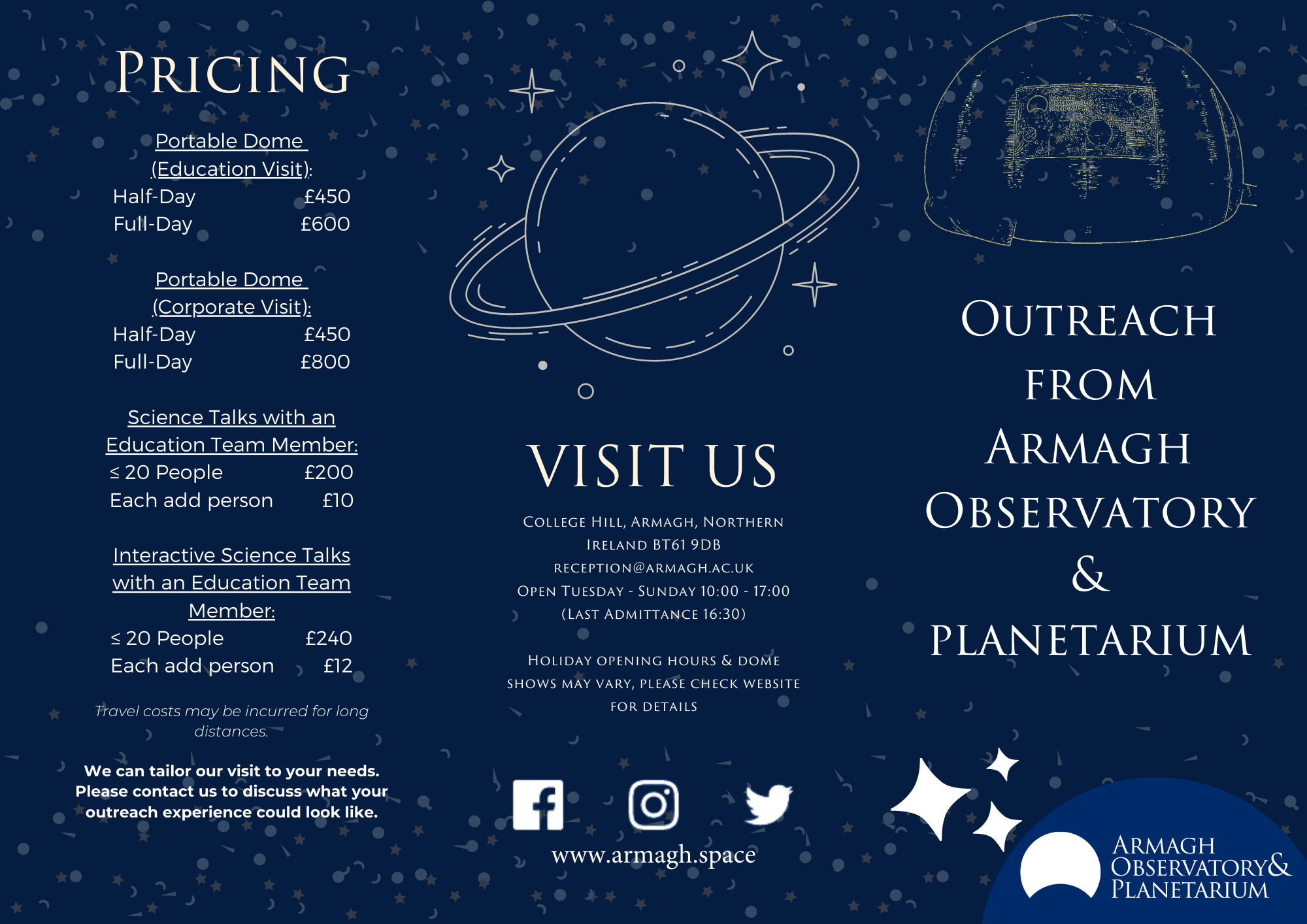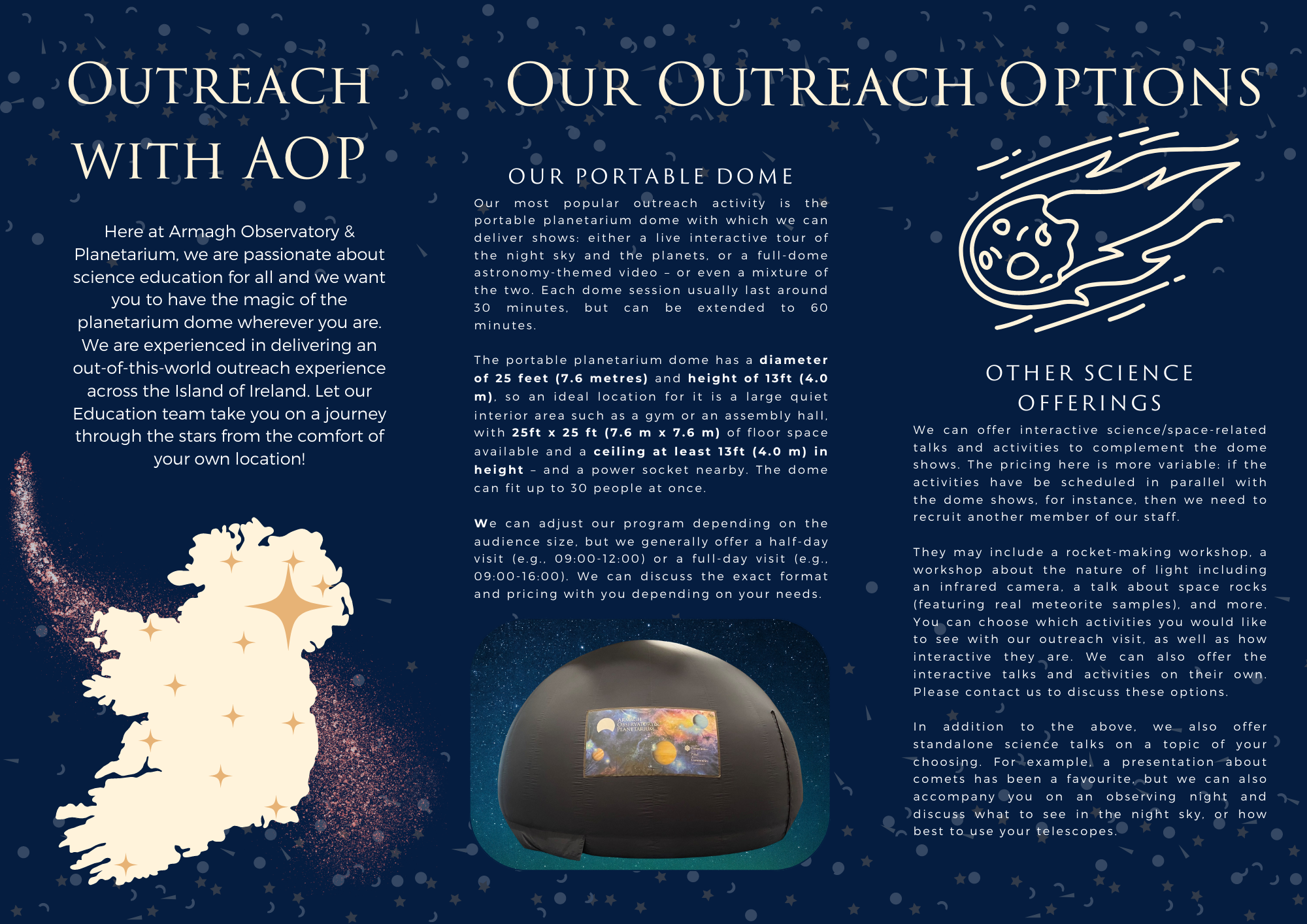 Interested in an outreach visit?
Simply fill out the small form below for more information.